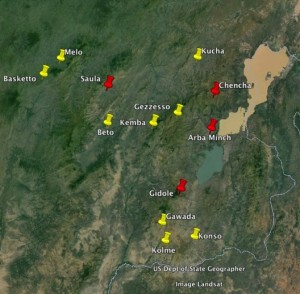 The Project "Reducing Maternal Mortality" in south-west Ethiopia is a local effort to reduce maternal and neonatal deaths.
The project is run by the local Ministry of Health with support from a Norwegian NGO (Norwegian Lutheran Mission). The project started in 2008. The map shows the institutions carrying out Emergency Obstetric Care.
The aim of the work is to reduce maternal deaths, reduce deaths among newborns, and increase the number of deliveries at institutions. The work aims to strengthen the health system by improving work at institutions doing comprehensive emergency obstetrics, and at health centres doing basic emergency obstetric care.
Our work, which consists of training, supervision and equipping and supporting institutions, focus to increase quality of services and better access for women to essential delivery services, and to improve health services for newborn. We thus work with health posts in kebeles, with health centres and hospitals.
To monitor this work and see if the project meets its societal objectives (reduced death rates), we register births and maternal deaths in four woredas with a population of about 600.000.