Many African countries will not reach the Millennium Development Goals on health.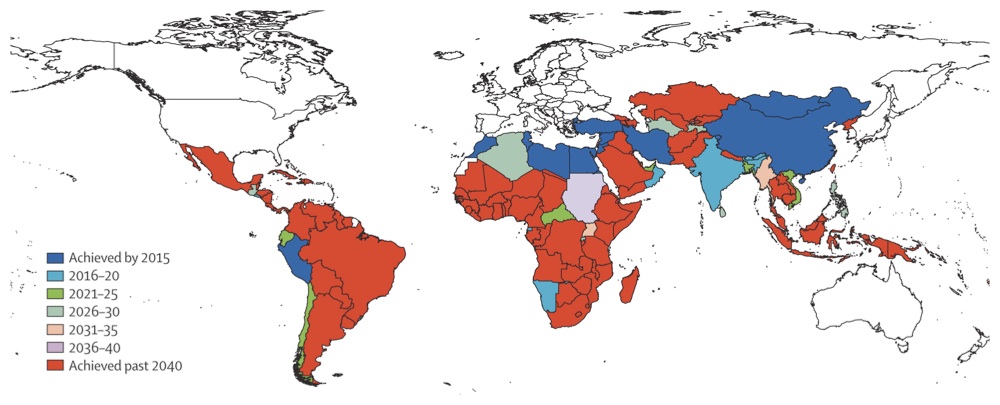 A recent article in The Lancet says only nine of 137 developing countries will achieve targets to improve the health of women and children. Although progress is speeding up in most countries, and especially to reduce child deaths, efforts to cut deaths among pregnant women and new mothers by three-quarters will not be achieved before 2040 in most sub-Saharan African Countries (see map copied from The Lancet article).
The reasons Africa fails on health MDGs are multifaceted, but most countries do not have the necessary health infrastructure where the people live. In simple language, this means that people do not have enough and good hospitals where they live. Thus, many pregnant women in need of help during deliveries do not get the help they need.
Unfortunately, many donors (rich countries and NGOs) focus on simple and cheap solutions, but not on the meticulous work in building small rural hospitals, and in training and supporting necessary staff.
Lozano, R., Wang, H., Foreman, K., Rajaratnam, J., Naghavi, M., Marcus, J., Dwyer-Lindgren, L., Lofgren, K., Phillips, D., Atkinson, C., Lopez, A., & Murray, C. (2011). Progress towards Millennium Development Goals 4 and 5 on maternal and child mortality: an updated systematic analysis The Lancet DOI: 10.1016/S0140-6736(11)61337-8